WØAIH SK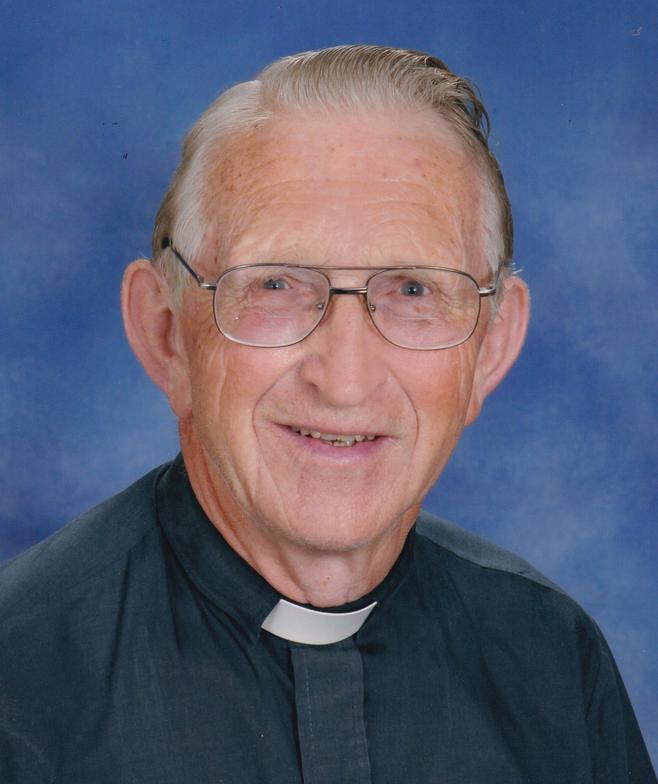 On a crisp October afternoon The Lord called Home his beloved servant, Pastor Paul Bittner. He was trying to fix one of his antennas and fell to his death.
Paul was born on Christmas Day, 1933 to Reverend Louis and Irma Bittner in Beatrice, Nebraska. He spent his grade school years in Ogallala, Nebraska. He graduated from High school in 1952 from Stewartville, Minnesota. In 1958 he graduated from Concordia Theological Seminary in Springfield, Illinois. His first parish assignment was to Ontario, Canada where he served at St. John's Lutheran in Desboro and St. Paul's Lutheran in Marmion. Subsequently he served Trinity Lutheran in Virginia, Minnesota and Trinity Lutheran in Grand Island, Nebraska. In 1977 he began his ministry at St. John's Lutheran in Fall Creek where he served until his retirement on Pentecost Sunday, 2000. During his ministry he served many local congregations as a vacancy pastor or "Rent-a-Rev" as he laughingly called it. To meet and greet and serve God's people afforded his most treasured moments.
Paul married Mary Beach in 1953 and they were blessed with four daughters.Nancy (Doug) Watkins, Cynthia (Randal Schreiner), Lori (James Pluda) and Bethany (Paul) Husby. There are also six grandchildren: Nicholas (Kirigin) Watkins, Lars Watkins, Allison Pluda, Joseph (Katy) Husby, David and Erik Husby. He was preceded in death by his parents and brother Hillmar. As an amateur radio enthusiast the call W0AIH which he got in 1949 was known around the world. He mentored many "hams" to developed their skills. He also hosted many radio contests at "the farm" which were recognized world wide for their participation and competence. Ham radio opened many doors into the Christian communities in the former Soviet Union. Paul made several trips to house churches in Latvia, Siberia, Kazakstan and Krygzstan. He was most proud to have a "spiritual son" in Gennadj Khonin, a former a Soviet astrophysicist and now a theologically trained Lutheran pastor in Kazakstan.
"Blessed are the dead which die in The Lord......for they rest from their labors and their works do follow them."
WØAIH Memorial Scholarship Fund
On October 31, 2018, the amateur radio world lost one of its best ambassadors, Rev. Paul Bittner, WØAIH, at age 84. Licensed for nearly 70 years, Paul built one of the largest ham radio stations in the world, and for decades, opened it up for others to use and operate. Over the years, Paul also helped countless hams to get on the air, or to improve their stations, by installing their towers and antennas. Paul never passed up an opportunity to help a fellow ham.
As a rememberance to this great, giving man, we would like to establish "The Rev. Paul E. Bittner, WØAIH, Memorial Scholarship", via the ARRL Foundation. This will be a permanent award, with a $1,000 scholarship awarded each year to a deserving young amateur radio operator, pursuing higher education (to be used for tuition, books, fees and other educational expenses).
Please consider making a donation to this fund.
Memorial Slideshow
Funeral Service (high quality)
Burial (high quality)
Funeral Live Stream
The recording starts about 20 minutes before the service, and continues through the burial. The procession begins around 1:42:00 into the video.
Ham Radio Operators
At least 100 amateur radio operators were present at the visitation or funeral for W0AIH. Fifty-seven of them got out to The Farm for a picture that afternoon!
(click on the photos for high res versions)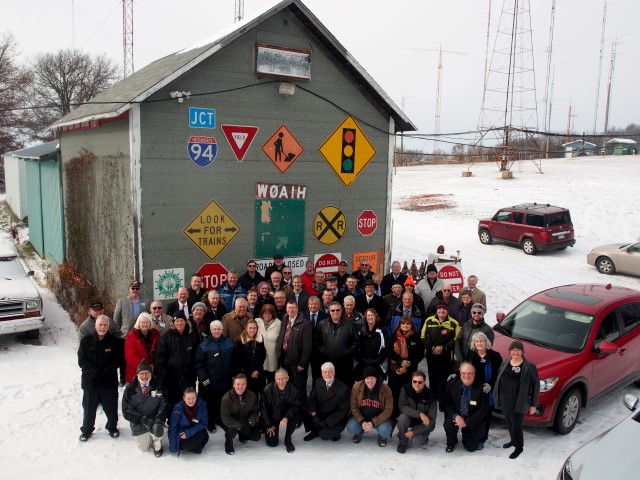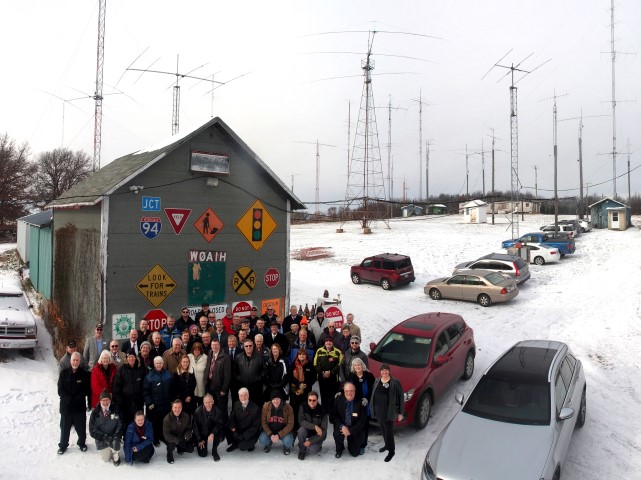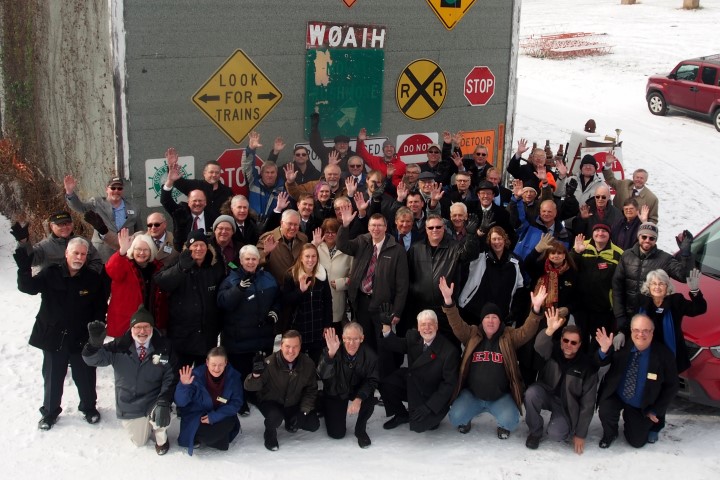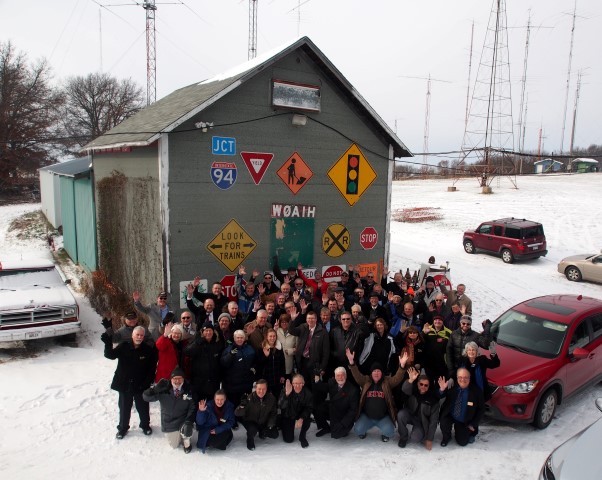 Headstone
Paul designed this monument and installed it last summer. It was his last project involving concrete!
(click on the photos for high res versions)
Memories
Jim Williams
Rest easy OM. That Man was through and through a tribute to Amateur Radio.
John
You will be missed brother.
Wm R Leager (w3wrl)
RIP Sir
John Walker
73 my friend and god speed. We will miss you. W1JCW
Ted Kobishyn KB1ZYG
What a vibrant life. A beautiful hobby to share with his friends and the world. A lucky man to be motivated every day by the passion of his faith,family and his radio hobby. Good to have role models in one's life... 73
Ellis J. Stewart
Paul was one of a kind for sure
He graciously showed my wife, Mary, and me his incredible antenna farm several years ago shortly after I earned my General Class License.
Later, we had a wonderful evening with Paul and the other members of the Eau Claire Amateur Radio Club where we played a Trivia game competing against each other in small groups. The highlight of that evening was when our team won, beating the team that included both Paul and Rev. Rolf Nestingen.
Our thoughts are with Paul's family at this time, and we can all look forward to being reunited with Paul in the future.
God Bless Rev. Paul Bittner and his family.
Michał SP5TAT
I took part in the 2001 SP-DX Contest from W0AIH. Paul - great, warm, knowledgeable Person. RIP.