News from the Sultans of Shwing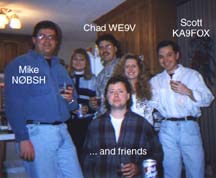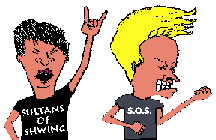 Mike K9NW (ex NØBSH), Chad WE9V, Scott KA9FOX
(That's Scott's wife, Laurie, to his right - click on the picture to see it bigger)
---
Sultan's Select Surfing Spots

Dayton - Check out previous SOS engagements!!!
The Hair Site Long hair RULES!!!
SportZine Babe Of The Month - Babes RULE!!!
Peter Wong's Cool Babe of the Month - heh, heh... he said 'peter'!!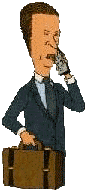 Beavis & Butthead's Playground - A plethora of B&B sights, sounds and script.
Hooters! Can't get enough of them hooters!
Society of Midwest Contesters - The Black Hole RULES!!!
Check out how WE9V's and KA9FOX's employers are doing on the NYSE.
KA9FOX Contest and DX Library - All the contesting and DXing information you need, from Sultan KA9FOX
QTH.COM - Our Web host - Please take a moment to look around here
---
Dayton
The Sultans of Shwing host a party, usually on the 12th floor, at Stouffers/Crown Plaza on THURSDAY NIGHT of the Dayton Hamvention. The next SOS bash will be in May 2003.
---
Send e-mail to the Sultans of Shwing:
---
---
Created by Scott Neader KA9FOX & Chad Kurszewski WE9V