My First Tower!
By Scott Neader, KA9FOX
ka9fox@QTH.com
---
PHOTO 16: Pouring the concrete!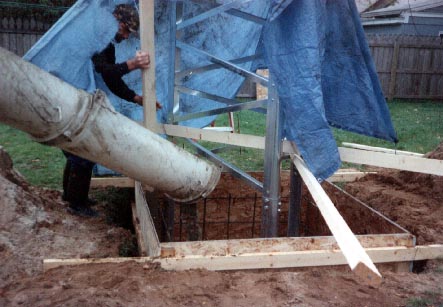 Just as the concrete starts to pour, so does the rain! (damn weather forcasters). A tarp was quickly thrown over the base section to shield the concrete as best as we could.
---
PHOTO 17: One section done, 8 more to go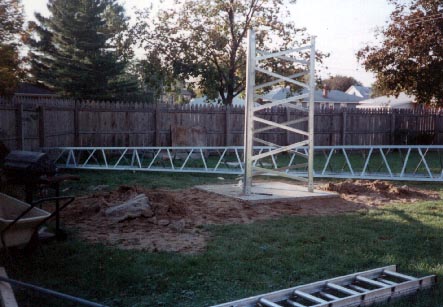 The finished base and bottom section in place! While the concrete cured, my dear friend and local ham John Kjos W9RPM and I started assembling the tower (you saw those pictures already).
About this time, a petition calling for the end of my tower construction began circulating around the neighborhood. Eventually, a moratorium was brought before the City Council to end all tower construction for all radio services, but it was later amended to only include cellular and PCS construction.
Removing ham radio from this moratorium was due, in part, to tremendous support from the local amateur radio community. Special thanks to local hams WU9N, W9LZQ, and AA9AW for their work. Also, I received some great advice from Fred K1VR and Jim W9WU... thanks guys!! I owe you many beers at Dayton!
---
BACK | NEXT | FIRST PAGE | KA9FOX Home Page